Geneva Software provides tailored IT services and solutions that focus on innovation, performance, and affordability. We help our customers get the best ROI from their technology investment. Drawing on our expert resources and decades of experience, we deliver software and web solutions that are feasible, resourceful, and user companionable, enabling our clients to efficiently deliver tools, services, and information across the enterprise.
Customers leverage our knowledge and skills to assist them with custom development, modernization and transformation efforts, and systems support while successfully delivering and implementing the new solution. We can manage and deliver all phases of the lifecycle, including design, build, test, deployment, training, maintenance, and user support. Throughout all phases, our certified project managers follow proven Project Management methodologies and implement required security protocols. Rooted in decades of experience with the federal government and private industry, we have proven to be a reliable partner ready to help our customer achieve success.
The Geneva Software project management approach considers a holistic view of the processes, disciplines, and leadership required to achieve project success.
Process
Our certified project managers implement processes that encourage collaboration, engage stakeholders, and ensure initiatives are completed within planned budget, scope, quality and schedule. Their experience includes adaptive agile models such as Scrum, Kanban, and Extreme Programming (XP), as well as traditional predictive SDLC models such as waterfall. Our Program Managers are skilled in assessing the appropriateness and organizational fit of these models, advising our customers on the approach that would yield the highest quality and return on investment for their particular situation. We have the skill and experience to consult on effective hybrid strategies when needed. To help achieve effective communication, we provide project documentation throughout the lifecycle, such as schedules, risk registers, and other reporting as required.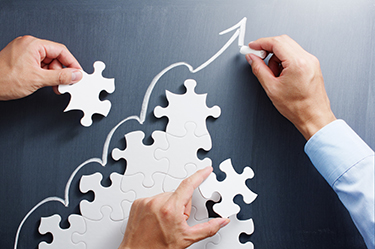 Discipline
To instill project management disciplines, we ensure that all of our project managers achieve certification as a Project Management Professional (PMP), ScrumMaster, or both. To ensure the disciplines are applied appropriately and effectively, Geneva Software maintains a rigorous compliance program for all projects. The result of our compliance program is that our project teams benefit from continuous improvement, which leads to more predictable quality outcomes for our customers. As evidence of our strength in adhering to solid repeatable processes and executing continuous improvement practices, Geneva Software maintains a CMMI-DEV 3 appraisal rating.
Leadership
Our Project Managers maintain an emphasis on people balanced with the tactical management of tasks. Experience has shown us that clear communication is at the heart of effective project leadership. Our corporate Project Management Office works with the project managers to create and implement proven hiring strategies to build teams of highly qualified professionals that fulfill the needs of the customer.
Additionally, our Project Managers are well-equipped to manage teams across all levels of the enterprise and adapt to the customer's organizational structure. This enables our teams to harmoniously integrate into the customer's environment. Throughout our history, our project leadership has been recognized for maintaining reliable and trustworthy relationships, and delivering with quality.
Services
Geneva Software is Experienced, Reliable, and Ready to provide Program Management support services to your organization.
Project Management
Portfolio Management
Project Management
Workflow Management
Risk Management
Earned Value Management
Reporting
Operations
Operations Support
Resourcing Strategies
Policy Support
Publications Support
Archiving Support
Administrative Staffing
Technical Management
Configuration
Integration Support
Data Management
Release Management
Solution Assessment
Management Transformation
Process Analysis
Performance Metrics
Methodology transformation from Legacy SDLC to Agile Methodologies